Because each song is for such a special moment, we want to make sure that you love your song. Below are some tips we've put together to ensure that you will love your one-of-a-kind song that will bring those happy tears! When filling out our song submission form, we encourage you to stick to the most important details that will help your artist craft your song's lyrics. Below are step-by-step instructions on how to place your order! If you don't plan on ordering right away, we recommend saving your answers in a separate document as we cannot guarantee your browser will save what you typed out.
THE GIFTER AND RECIPIENT
First, we have to know who is giving the song - That would go in Gifter's Name and the email will be used to sign into your Songfinch account. Once your song is ready, we'll also email a unique URL to you so you can listen to your song :)
Next, we need to know who the song is for. Give us their name and relationship to you! You can even give us the pronunciation by sharing a link or phonetic spelling. Here, you'll tell us if you want their name included in the song. If this box is checked, the artist will weave their name into the lyrics. If not, the artist will not use their name. If you decide to make this change after your song is delivered, this will incur a revision fee. You can see more info here: https://www.songfinch.com/song-revisions
Under the recipient section of the song submission form, there is an option for you to phonetically spell their name or provide a link to the pronunciation. Please make sure to utilize this if the recipient's name is uncommon. A simple mispronounced word or name can throw a song off and can take a few days to fix, depending on your artist's availability. If you're unsure whether or not to include the pronunciation, it's always better to include it.
For example:
David is pronounced DAY-vid
Aretha is pronounced uh-REE-tha
Vancouver is pronounced van-COO-vur
WHAT IS THE SONG FOR?
We'll also need to know what the song is for and if you'd like the occasion mentioned in the song. Is it their birthday? Do you want the artist to say "Happy Birthday"? If so, click Mention the occasion. If not, do not check that box and it will not be in your song. If you decide to make this change after your song is delivered, this will incur a revision fee. You can see more info here: https://www.songfinch.com/song-revisions
CHOOSING YOUR ARTIST
Here is where we start to get into what kind of song you're looking for. Every artist sounds different and that's part of the beauty of music. Genres contain many different variations, sub-genres, and styles within so what may be a country song to you, may not be a country song to someone else. Our artists don't change their sound and style from song to song, so what you hear on our site will be very similar to what each artist will produce if they were to create your song. It gives you a style/vibe preview before you purchase. We have 7 different genres and over two-thousand artists. Each one of our artists has their own unique style, so we strongly recommend choosing your artist!
Artists: http://www.songfinch.com/artists
Playlists: https://www.songfinch.com/playlists
If you know who you are wanting, you can select "I already know who I want". On the next screen, you'll be given the opportunity to select up to 3 artist preferences.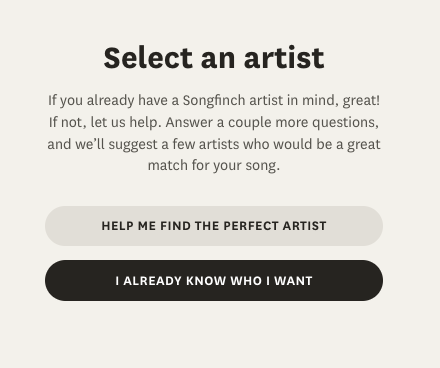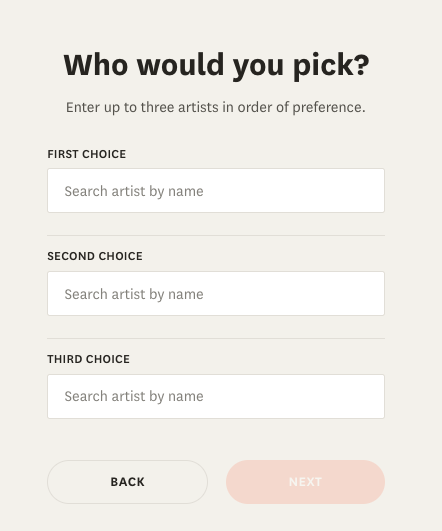 When entering in your choices, you'll be presented with the artist choice and the genre you want that artist to do. Please see the example below on how you can select two different artists with two different genres. Once you choose your artist, you'll be taken to the "tempo/mood" selections.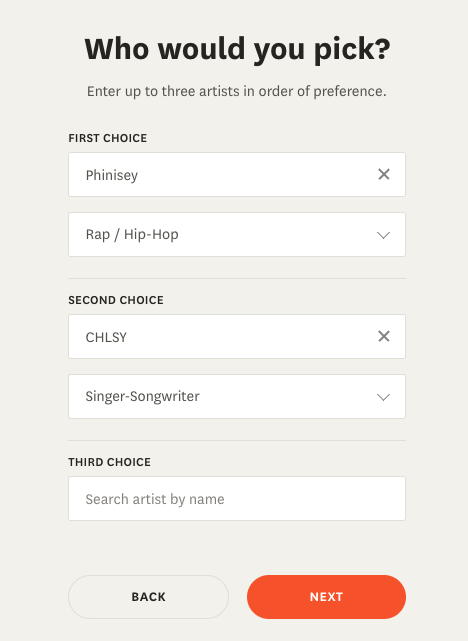 If you do not have an artist preference in mind, select "Choose for me" and our Music Supervision team will be able to choose an artist for you based on the below criteria. You'll then be asked what genre you prefer and what kind of vocalist you want.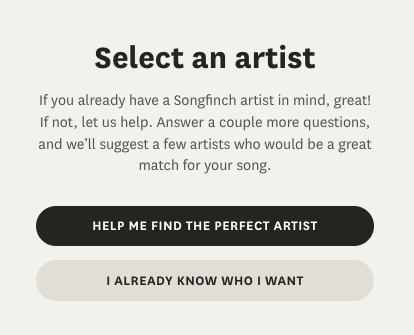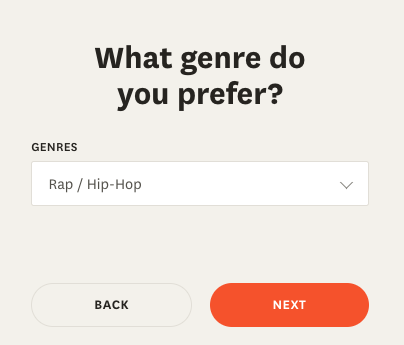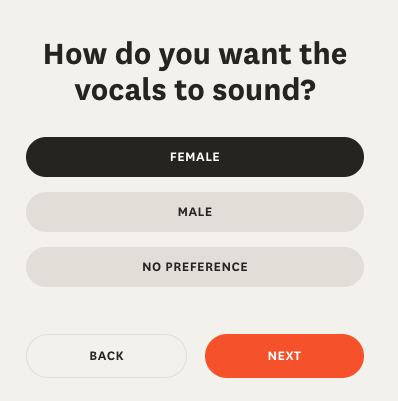 Once you pick the vocal style, you can choose your artist! You'll be given 6 choices and you can listen to one of their songs in the genre you selected. If you can't decide, select "Pick for me!".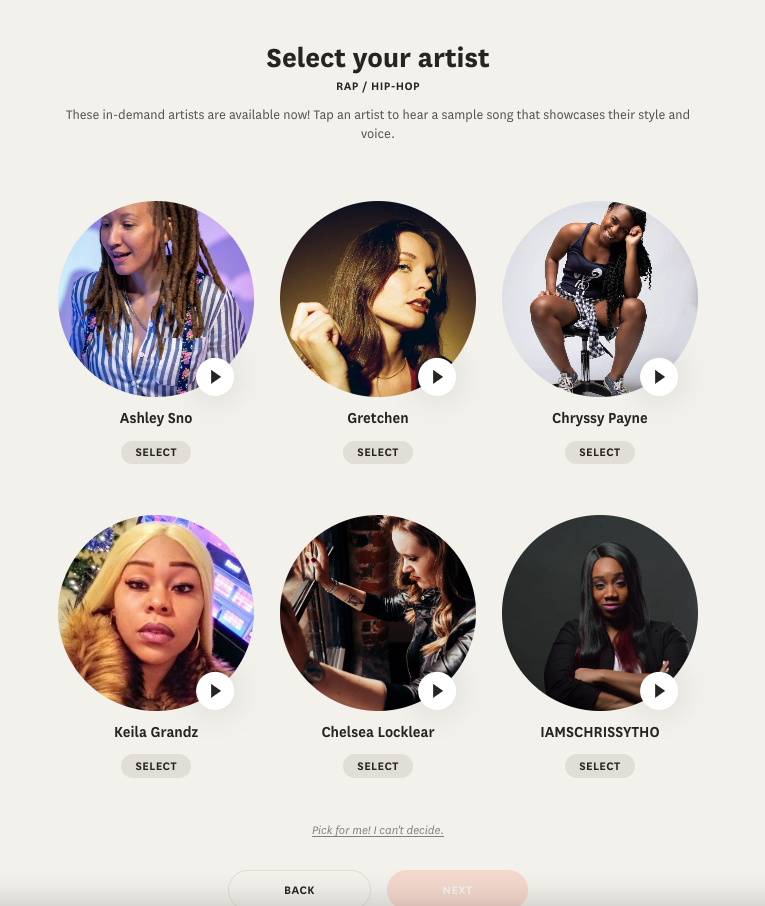 We will ask you to confirm your artist choice after you press "Select".
Please keep in mind we do not offer any changes on your song has been submitted or delivered. If you are unhappy with the artist that was chosen or the style that they have, the Song Replacement Policy is the way to go! You can read more here: https://www.songfinch.com/song-revisions
TELL US THE TEMPO/MOOD OF YOUR SONG
Once you select your artist or the kind of artist you want, we'll ask you about the tempo and mood of your song. Slow-tempo songs are ideal for slow dance or a ballad, medium is a nice balanced tempo and can be used for all types of songs. Fast/Up-tempo songs have plenty of energy while still packing a meaningful punch. This would be ideal for celebrations or anthems. Below are the list of moods to choose from:
Heartfelt - Heartfelt songs highlight your emotional moments, stories, and feelings in a sincere way.
Comical - These songs highlight your funny stories and memories in a playful yet tasteful way.
Romantic - This features emotional intimate lyrics, often with a slower tempo.
Reflective - Reflective songs focus on the past memories, stories, and details you provide.
Uplifting - These songs highlight your messages of encouragement and inspiration.
Somber - These songs use an emotional and serious tone, often with a slower tempo.
Happy - Happy songs are bright, positive, and sure to bring a smile.
Lighthearted - Lighthearted songs are fun, carefree, whimsical, with a lively bounce.


Keep in mind: A slow-tempo romantic song has a whole different vibe than an up-tempo romantic song, so please make sure to select one if you have a preference. If not, the default is "No Preference" and the artist will use their expertise to form the tempo based on all of your other selections to make the best song possible.
WHO IS YOUR RECIPIENT?
Here is the time to tell us about you and who you are gifting the song to! Tell us your story like you're telling someone you've never met before and try to avoid listing things out without context. Be thorough and take your time. The details and context you provide help your artist add depth, emotion, and meaning to your song. Please keep in mind, our artists don't know you or your story so provide context when possible! These details help your artist understand who they're writing for and are not intended to go into your song.
Tips:
Make sure it makes sense
After you finish a response, reread it from the perspective of a stranger. Be sure to include enough context, so your artist understands what you've shared. Make it extra clear by including pronunciations, too.
Avoid making a list
Without context, a list of random places, dates and things could end up sounding like one of those goofy parody songs. If you only say, "Pepperoni, Pineapple, and Sausage," that could be your go-to pizza order or the names of your three dogs. Context is key.
Include descriptive details
"I remember the crackling sound of the fire while sleeping under the stars" hits different than "We went camping." Think about all of the senses, and give your artist a peek into what your memories feel like.
SHARE YOUR STORY
We've limited the story prompt text box to 750 characters since we don't need a ton of information to write your song. Keep in mind each song is about 2:30-3:30 which includes two verses and a chorus, so we don't need pages of information to complete this. Please keep in mind, we don't accept external links like Word Docs, Webpages, etc. If you do want to include dates, please stick to the MONTH, DAY, YEAR format!
There are a number of prompts to choose from - so use your best judgment when providing us with your story! We also have thought starters and storytelling tips to help guide you in the right direction!
In this section, share with us up to 3 Must-haves that you'd like to have weaved into your song's lyrics. For example, you can put in here their nickname, your children's names, their favorite phrase -- Anything that needs to be in the song. All other details are used to help craft your song's lyrics and are not guaranteed to make it into your lyrics. Please limit one detail per line.
Please keep in mind, if you request an artist to use a certain instrument we cannot guarantee that will be used. Some artists may not play that instrument or feel that another would work better with the song they are creating for you.
REVIEW YOUR SUBMISSION
After sharing your Must-haves, you're finished! You'll be given the option to review your details and make any changes here. Use this time to double-check that your spelling and details are correct and that any pronunciation needs to be included. Anything within your submission can make the song unless noted by you. Please keep in mind if there is something misspelled or mistyped, the artist will use what is written!
Before being able to checkout and enter your payment information, you are required to select this box. By selecting this box, you are understanding that any changes cannot be made after checkout.
If you do want to review or change your artist selection, click "Edit Song" and you'll be taken back to the artist selection screen.
All songs are delivered on the 7th day by 11:59pm CST. If you don't select rush shipping, we cannot deliver your song sooner than the date selected. Rush fees start at $25 USD for 6-day delivery and go up to $75 USD for 4-day!
At this point, you can also select an add-on, add and extra verse, or tip your artist! You can also order these after your song is delivered.
All prices are in USD, so if you are located outside of the US you will be charged in your country's currency.
And that's it! After this page, you'll be able to add your shipping address if you purchased a physical add-on (For US customers only), your billing address, and payment information. We work quickly to fulfill your order so we cannot accept new details, cancel, or refund your order after submission.

—-

We hope these tips help you feel more confident to complete your purchase knowing that we will take your request and create the best song possible!

If you are looking to get in touch with our Customer Success team or if you have additional questions, you can reach out HERE! They are online 9:00 am – 5:00 pm CST, 7 days a week.

We can't wait to write your song!