The photo slideshow can be purchased at any point during your song's creation! You can begin building your photo slideshow as soon as your song is complete. All instructions will be emailed to you at the time of song delivery or song purchase, depending on when it was added to your order.
Below are instructions to create your photo slideshow:
STEP 1: LOGIN TO YOUR ACCOUNT
Login to your Songfinch Dashboard and head to Order History. You'll see your original song and all add-ons purchased.
To start creating or editing your slideshow, click on "Personalized photo slideshow".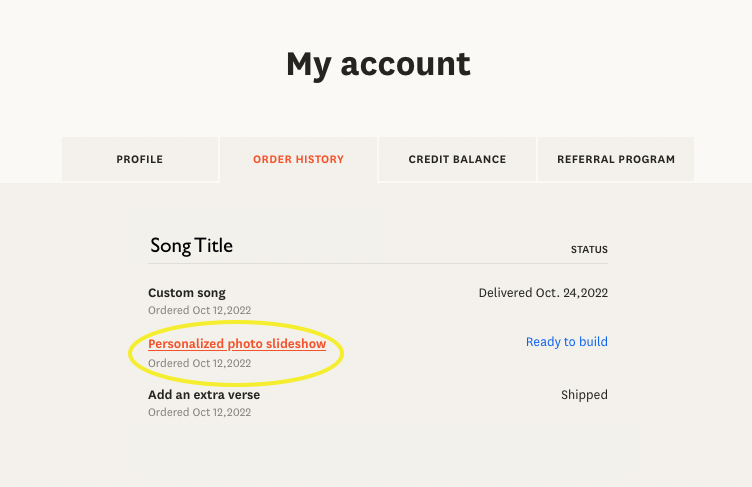 Note: If this option is not available, your song is either not complete or you have not purchased the photo slideshow add-on.
STEP 2: PHOTO SLIDESHOW BUILDER
Your photo slideshow builder page is where you'll upload, arrange, preview, and create your slideshow. We broke down a few of the page's elements below to help when building:
PHOTO SLIDESHOW PREVIEW VIDEO PLAYER
The video player shows a real-time preview and plays your song. This is helpful if you'd prefer certain photos to show up during specific lyrics.
UPLOAD PHOTOS
Click the "UPLOAD FILES" button to open the photo uploader. You can drag and drop photos into the photo uploader (if you're on a computer) or click "browse" to select photos on the device you're working on to open your camera roll or files.
The "Upload Photos" section also shows the exact number of photos needed to fill your slideshow and avoid looping/duplicates. This number depends on the length of your song – longer songs need more photos.
REARRANGE PHOTOS
Our photo timeline has a few features that will help get your slideshow how you'd like it.
Photo Time: Each photo plays for 6 seconds on the screen and you'll see a time range above each photo indicating where that photo will show within the video. This is a good way to line photos up with certain lyrics of your song.
Drag, Swap & Rearrange: You can drag and swap photos with each other in the timeline for easy arrangement.
Progress Bar: Our progress bar lets you know how far along you are in your slideshow creation. To avoid duplicates, you'll want this at 100%. Make sure there are no gaps or missing photos so your slideshow can be successfully rendered.
STEP 3: FINALIZE/RENDER PHOTO SLIDESHOW
If your song does not need any revisions, all your photos are uploaded, and they're in the correct order, click the "Finalize Slideshow" button under the preview video player.
During this process, our slideshow builder creates your final hi-res video, adds smooth transitions between frames, syncs your song, and transfers it to your Songfinch song page. This process takes 30-60 minutes and you'll get an email as soon as it's finished.
Each photo slideshow comes with three renders so you can edit and rebuild it once or twice after you see the first version completed.
STEP 4: PHOTO SLIDESHOW DELIVERY
Within an hour, you'll get an email from us letting you know that your photo slideshow is completed and ready to view. To view it, visit your song page and click the play button. This will play the slideshow at the top of your song page.
---
VIEW THE FINAL PHOTO SLIDESHOW
---
If you run into any issues or have any questions, please reach out to our Customer Experience team HERE! They are online 9:00 am – 5:00 pm CST, 7 days a week, and will be sure to get to your message as quickly as possible.